Interview with Thomas Dohse, Deputy Director of the interpack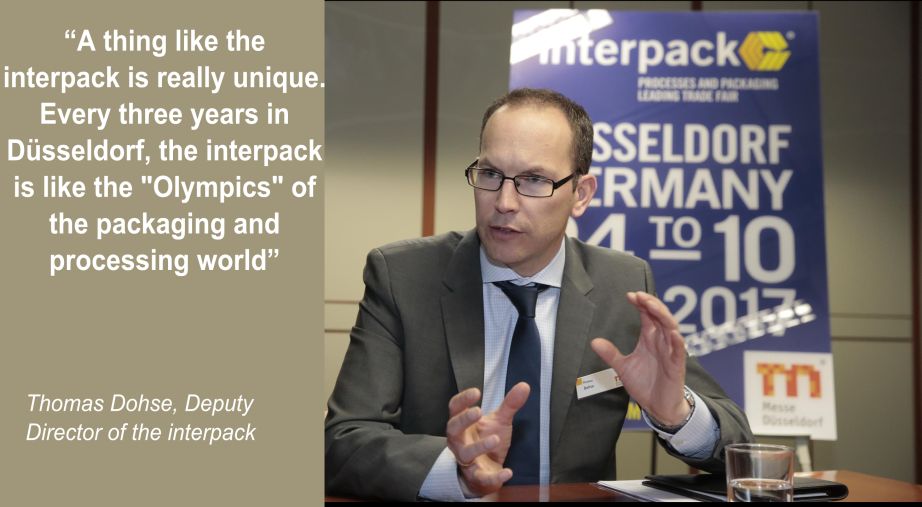 Interpack, the worldwide largest packaging trade fair, will take place in Düsseldorf from the 4th to the 10th May 2017. Before the trade fair begins, we talked to Mr. Thomas Dohse, Deputy Director.
SenGermany: Mr. Dohse, can you introduce yourself and tell us since when you have been active for the interpack trade fair?
Dohse: Acting as a team member of interpack since 2005, I initially served for some time as Senior Project Manager, then as Account Manager and, for more than a year now, I have been responsible as Deputy Director for the operative project lead of interpack. More than one year ago, we established our interpack alliance, which includes all processing and packaging trade fairs of the Messe Düsseldorf group. This overall responsibility lies with Mr. Bernd Jablonowski, in whose team I am now acting as Project Manager of interpack.
SenGermany: If you have been active for interpack since 2005, this means that you were fully involved last time in 2014. I was here as well, and noticed that the entire world of packaging was present in Düsseldorf. Will our experience be the same this year?
Dohse: In 2014, we actually welcomed the whole world of packaging in Düsseldorf, where the exhibitors came from 50 nations and the visitors from 163 countries in 2014. These figures will be similar in 2017. We are fully booked. We were overbooked as per the registration deadline at the end of February 2016 already. We therefore have a long waiting list of companies and reckon with more than 2800 exhibitors. Every single square metre of our fairgrounds is booked up. We even made floor spaces available in the entrance areas, so that we are almost bursting at the seams. Now we only need equally numerous visitors, but we are likewise optimistic in that respect. 
SenGermany: With "fully booked" you mean the exhibitors from around 50 countries. Will Africans and South Americans also be present as exhibitors, or as visitors only?
Dohse: Africans and South Americans are likewise represented as exhibitors, for instance coming from Egypt. First of all, export-oriented exhibitors will attend, who wish to tap into new sales markets on the occasion of interpack.
SenGermany: You have spoken about the interpack alliance. But I heard nothing about it at the trade fair 2014. What is the interpack alliance and when was it established?
Dohse: The interpack alliance was established only one year ago, when we also took some restructuring measures in our company, so that all exhibitions of a portfolio, in this case "Processing and Packaging", have been pooled. In the wake of these developments we established the interpack alliance, so as to give our foreign trade fairs a higher priority. In this way, we demonstrate that there is not only the interpack in Düsseldorf as the world's leading trade fair, but that trade fairs of the interpack family likewise exist in many interesting and exciting markets. We will strongly promote the interpack alliance at the interpack 2017, and try to motivate our exhibitors to enter these exciting growth markets with us.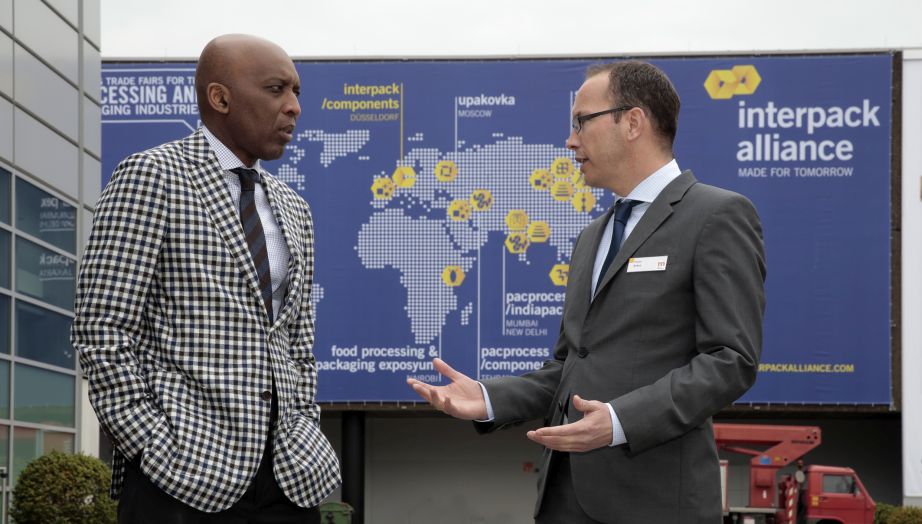 Kenya is the single African member of interpack alliance
SenGermany: With Kenya, the interpack alliance has one single African country as a member. A packaging trade fair is held in Senegal as well, which is getting better and better known. What conditions do we have to fulfil, in order to become a member of the interpack alliance?
Dohse: We entered new ground when we organized a small interesting trade fair on the subject Food Processing and Packaging in Kenya, and we are also watching the growing African market with great interest. Not only North Africa, but also West and East Africa. In those territories, we are likewise very open to discussions with fair organizers. It may be of interest what you mentioned in this context. We must of course conduct detailed discussions on the terms and conditions, and see what the local organizer wants and what our role could then be. In principle, it is of interest for us to expand our interpack alliance and be successful with events in the regions concerned.
SenGermany: Each year in March, a packaging trade fair takes place in Senegal. Next year, for the period from the 21st to the 24th March 2018, Germany has been invited as guest of honour of the fair. Given this new development, do you think that it would be a good idea for the interpack alliance to present itself there?
Dohse: I think so. That sounds interesting. Of course, the details would have to be discussed in concrete terms, in particular as to the intended framework conditions, as to what role we play, etc. But we now already drive a few things forward: In October, we start a trade fair in Iran, develop our event in China, and have a new cooperation partner in India. We must therefore also make sure that we can handle new projects, but in principle this is an interesting matter, which we are looking forward to experience. 
SenGermany: Where will the interpack alliance trade fairs take place in the year 2018?
Dohse: In January, we traditionally have the upakovka in Moscow. That is a longstanding packaging trade fair, which has been organized by us since 1976. This is followed by trade fairs in autumn. Most of the forthcoming events of the interpack alliance take place in 2017. 
SenGermany: Then there are chances that the trade fair in Dakar will not coincide with one of your projects?
Dohse: As I said, it is important in this connection to be familiar with the framework data, and to be informed by the organizer about our intended role. If we then have the relevant information and contacts, the matter will be easier to assess. Maybe, when the responsible colleagues are present here at the interpack, we might be able to obtain some first-hand information. In principle, it is utmost exciting what currently happens in emerging markets, and also in Senegal. But, as already mentioned, we now started a lot of projects simultaneously, and we must keep an eye on our resources.
SenGermany: Apart from the interpack in Düsseldorf, where also does a trade fair of this size exist?
Dohse: Nowhere. A thing like the interpack is really unique. Every three years in Düsseldorf, the interpack is like the "Olympics" of the packaging and processing world. Of course, there are a few specialist trade fairs covering sub-areas of the packaging sector, whether in the sphere of confectionery and bakery goods, beverages or pharmaceutical products. But nowhere else will you find such presentations of machines as in Düsseldorf. The internationality of exhibitors and visitors is overwhelming. This circumstance alone is a unique event.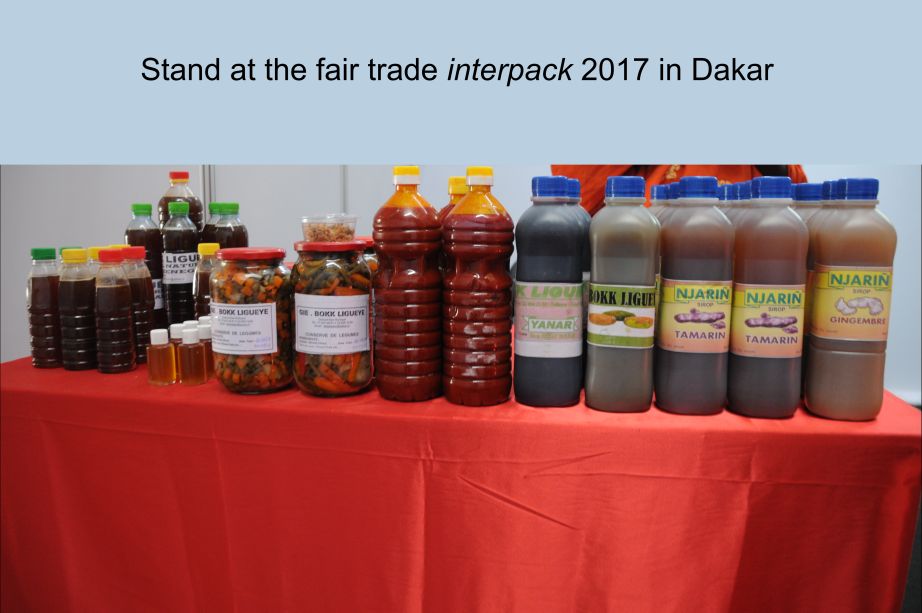 Senegal will soon banned plastic packaging
SenGermany: In the film about the packaging trade fair in Dakar you have seen that plastics were banned in Senegal. The Senegalese food industry is looking for know-how providers, to learn about better types of packaging. What can you show them at the interpack?
Dohse: A blanket ban on plastics is worthy of discussion. In this case it was probably a question of waste resulting from plastic material. In Germany, we introduced a reasonable take-back, recycling and reutilization system. Without plastics, it would not be possible at all to safely transport food products for the entire world population, to keep them fresh, or bring them from the producer to the market and finally to the customer. Plastics are the most commonly used packing materials worldwide. They have advantages in terms of weight, convenience food, transport and much more, which are to be considered. A lot of solution approaches, with and without plastics as packing material, will be found at the interpack. On that occasion the enterprises from the packaging industry will show their latest innovations, trends and developments. 
SenGermany: In the fair catalogue of the last interpack I have not seen any German manufacturers of egg cartons. Did they all move to the Far East?
Dohse: The notions are somewhat different in the catalogue: Therein, suppliers of egg cartons can be found under "Packaging made of folding box" or "Corrugated cardboard". Basically, such exhibitors are present at the interpack. I do not know for certain whether they are German manufacturers.  With regard to these packagings, however, the price pressure is extremely high.
SenGermany: I now tell you the background to my question. A poultry trade fair is held in Senegal, where also egg cartons are exhibited. At the last fair I learned that 800 million eggs per year are produced in Senegal alone, while there is no manufacturer of egg cartons in this country. All such products must be imported.
Dohse: It makes little economic sense to transport egg cartons farther than 300 up to 400 kilometres. It would be more reasonable to produce the egg cartons locally in Senegal. Companies supplying the technology for the production of egg cartons exhibit their products at the interpack under the category "Packaging production".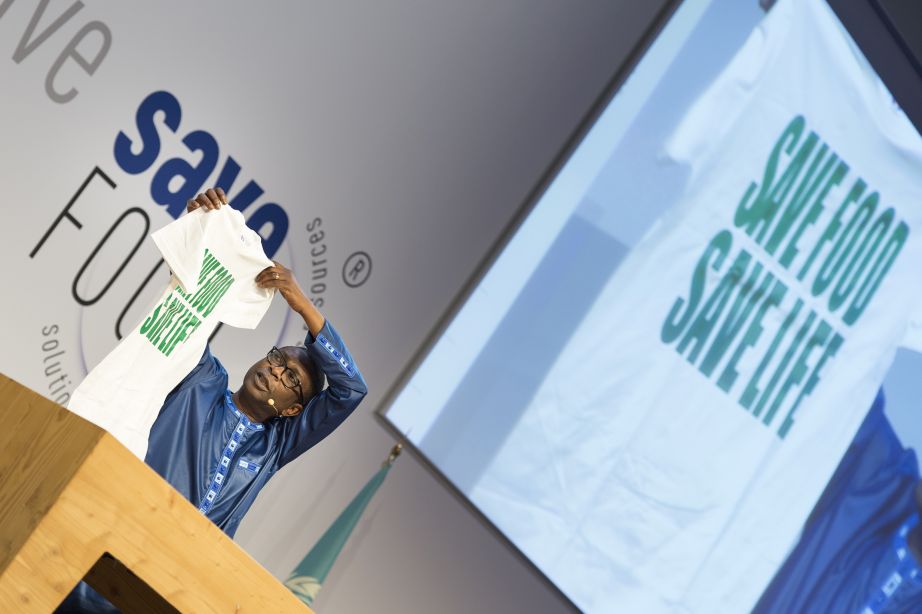 Youssou Ndour attending the Save food conference during the interpack trade fair 2014 in Düsseldorf
SenGermany: Youssou NDour was a guest at the Save Food Conference 2014. If you present the Save Food exhibition in Senegal, as in Kenya, he would certainly be delighted and do advertising for that purpose. This is another reason for presenting the Save Food exhibition at the packaging trade fair in Dakar in 2018.
Dohse: It is basically for our own interests to also globally present the Save Food initiative in many different places, and to include further locations in the fight against food waste. One of our goals is to finance further studies. In Kenya and India, we already conducted such studies in cooperation with the FAO. We aim to drive this forward, so as to gain further knowledge around the problem with food losses. Meanwhile more than 750 enterprises, associations, research institutions and non-governmental organizations are members of the initiative. It is indeed exciting to take this topic into more areas and continue making it public. I would include this issue in the package on the occasion of meetings with potential partners, and discuss it specifically with the organizer.
SenGermany: You spoke of the study in Kenya. Who financed that project?
Dohse: It has been financed through the membership fees of the companies, which joined the Save Food initiative. Ultimately this study gave rise to the Mango project, where a domestic Kenyan company, Azuri Health, harvested and dried the overripe mangos, which otherwise drop onto the ground and rot away there, and distributed these mangos as dried fruit in local supermarkets. This is a great first initiative. 
SenGermany: Are there any groundbreaking innovations, which can be expected at the interpack this year?
Dohse: We are, of course, excited ourselves, since many exhibitors unveil such novelties as late as at the interpack. They take the interpack as innovation time, and sometimes make beforehand a secret of what novelties are existent in the area of new machines or packagings. We expect faster machines and modular concepts. Such as machines which can more quickly be retrofitted, in order to more quickly process, fill and pack other packaging sizes or contents. But also intelligent packagings with indicators showing whether a foodstuff is still safe to eat, without having to rely on the best-before date only, as we usually do. Active packagings are already commercially available, where the product is for instance made more durable by using protective gas in the packaging. The concept here is to optimize the technology and increase the efficiency, which broadly spoken is a trend topic. These are only two of numerous examples, which the visitors may expect. It is therefore worthwhile in any case to travel to Düsseldorf and visit the interpack.
SenGermany: We will be present! Mr. Dohse, many thanks for the interview.
Interview conducted by Ibrahim Guèye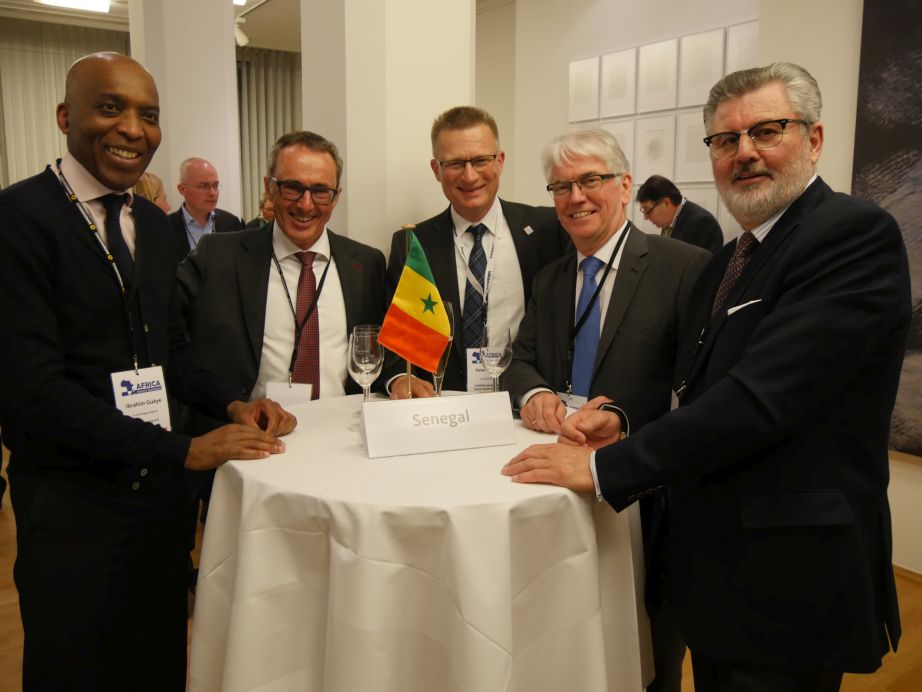 SenGermany during the conference "Africa meets business 2017" with German managers of leading Packaging companies: Friedbert Klefenz, Bosch Packaging, Peter Steindl, Fawema GmbH, Klaus Pekruhl, Langguth GmbH and Ralf Schäfer, Sollich KG
/index.php/en/15-english-articles/233-interview-with-dr-maria-flachsbarth
/index.php/en/15-english-articles/224-peter-magauer-speaker-of-the-management-board-andritz-hydro